UNDER PARIS SKIES
"Najar and his mates have created a gem with "Under Paris Skies." – Jersey Jazz Journal
"Nate's playing is quietly spectacular and the sound he gets out of his unamplified guitar is a gorgeous song itself."  – Jazz Lives 
"There is no doubt that there is a piece of Charlie's soul in Nate's mind, heart and fingers." – Becky Byrd, wife of the late guitarist Charlie Byrd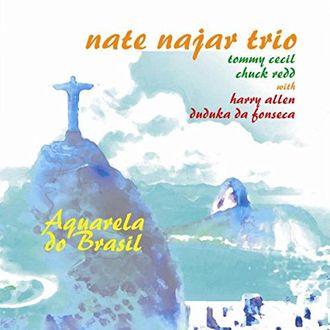 AQUARELA DO BRASIL
Classical Guitar Magazine
Guitarist Charlie Byrd came into international prominence with his introduction of Bossa Nova into the USA in the 1960s. Nate Najar was attracted to Byrd's playing whilst taking guitar lessons at school in Washington D.C. On this new CD Najar plays the classical guitar originally owned and played by Charlie Byrd on many of his recordings.
On a well-chosen mixture of popular standards and originals Najar's playing is impeccable. He uses his very impressive technique and musicality on every track to great effort. Overall this is one of the most enjoyable music performances I have heard for a long time. All the tracks are excellent, with Najar supported at the highest level by Cecil, Allen , da Fonseca and Redd. I was fortunate to have known Charlie Byrd for many years and I know he would have been delighted and thrilled by Najar's performance on this CD. Beautifully recorded, this CD release follows the excellent CD, 'Blues for Night People. The Nate Najar Trio remembers Charlie Byrd', by the same trio released around two years ago.
Duke Ellington famously said there are only two types of music – 'Good' and 'Bad'. The music on this recording is very 'Good' and I am sure classical guitarists can learn a lot from Najar's performance and interpretation.
– Maurice J. Summerfield – Classical Guitar Magazine July 2014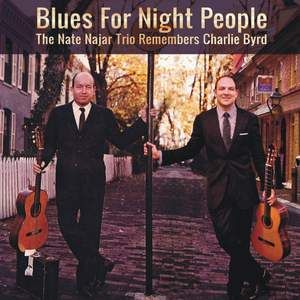 BLUES FOR NIGHT PEOPLE
Jazz Journal ****
In an elegant tribute to one of jazz's under-feted musicians,Nate Najar and his confreres capture the ethos of Byrd's music delightfully well, with Redd's vibes work an especial pleasure. The programme is intelligently wide ranging and the Trio is imaginative in the way it recasts old war-horses such as O Pato, Desafinado, Duke's Single Petal of a Rose and the always gorgeous Have You met Miss Jones?. A classy act that maybe deserves more than a short review. The thing is that for all it's quality I can't imagine in these download /iPod days that too many people are going to rush out and buy it. Pity,it deserves a healthy audience.
– Richard Palmer – Jazz Journal